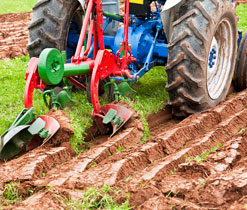 Fresh Market – Construction of a fresh market facility will soon begin at our White Harvest Moncrief site,  allowing us to offer healthy produce directly to 'food desert' residents.
Day Care/School Fundraising – White Harvest Farms will be visiting schools to explain the importance of fresh fruits and vegetables through a planned educational component. White Harvest will target the risks of childhood obesity through an educational campaign that will distribute printed information addressing a healthy and nutritional lifestyle for the entire family. As a part of this campaign, parents will have an opportunity to purchase fresh produce at neighborhood schools throughout the year.
Church Fundraising – White Harvest Farms will visit local churches on Sundays, and sell crops after the service to attendees. During the service, the pastor will introduce White Harvest Farms to the congregation and explain the benefits of purchasing fresh vegetables from White Harvest.
Land Acquisition Program – White Harvest Farm's goal is to acquire, lease or have donated, 150 acres of farmable land to the Clara White Mission (501(c)3) for farming and scientific purposes. We require a minimum three-year commitment of the property to recoup our investment. In addition, we require the property to be a minimum of 5 acres, preferably fenced or secured, with access to water.